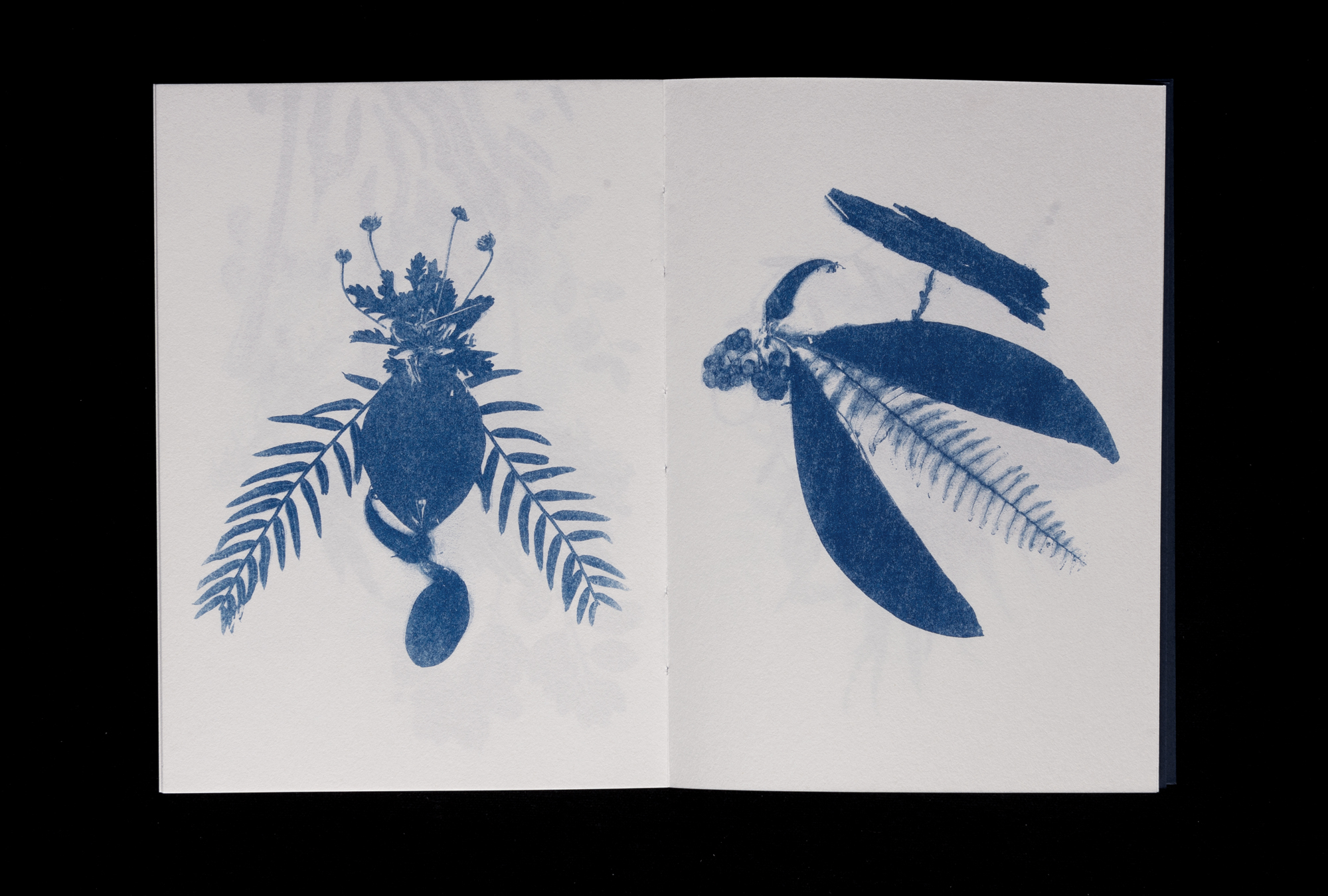 ISBN: 9789897571558
145mm x 125mm
Impressão em Serigrafia
Edição Limitada de 50 cópias
︎︎︎
145mm x 125mm
Screen printing
Limited edition of 50 numbered copies
Delli Press
, 2021
︎ 30€ ︎︎︎ email us
The Shape of Nature
The study of the forms of nature or the nature of forms, but also of the cycles of existence of the so-called natural "things" has been, since the dawn of humanity, an inexhaustible source of inspiration, concern and restlessness.
In The Shape of Nature, we sought to collect, assemble and catalog a set of visual forms in order to make this publication. We are talking about a kind of dictionary of forms from plant species, as varied as possible, that surround the perimeter of DELLI (University campus of Universidade Lusófona).
With this material, the result of field collection work, we beggined its reconfiguration and visual recording. With the various plants, each student carefully composed an A3 format document, positioning, pressing and pasting the plants on a sheet of paper. As in a traditional herbarium, the forms of the plants were not transformed into physical content, but into a matrix for a representation in the form of a shadow/silhouette that resulted in compositions, giving rise to pages replicated in a risograph printing system. Differently from regular herbariums, in which the plants are duly cataloged and identified with information about the species and the place where they were collected, our work enjoyed the combinatorial and speculative freedom in the connections that each student established between forms.
---
Project developed in a workshop, BA, 2nd year
Tutor(s): Filipe Luz, Luís Alegre
Contributors/Students:
Adriana Crespo
Ana Catarina Duarte
Ane Catherine Correia
António Dias, Bárbara Cruz
Catarina Duarte
Daniela Couceiro
Duarte Costa
Érica Correia
Evander Anacleto
Felipe Quartin
Filipe Nunes
Filipe Bisca
Giovanna Russo
Guilherme Bento
Guilherme Dâmaso
Helena Matias
Inês Diogo
Inês Gonçalves
Inês Balagueiras
Jéssica Frade
João Dias
Lorenzo Quintas
Margarida Martins
Margarida Leonardo
Maria Ramos
Mariana Moura
Mariana Sousa
Miguel Costa
Miguel Rodrigues
Miguel Lopes
Miriam Ribeiro
Neuza Leote
Rafael Apolinário
Rúben Miguel
Raquel Lucas
Raúl Rodrigues
Sara Godinho
Saskia Soto
Sofia Franco
Sofia Luz
Susana Figueira
Telma David
Tomás Santos
Valentina Flores
Victoria Perez
Yuri Abreu
Book Cover:
Joana Tavares
---
© Fotografias por Bárbara Matos, Laura Palma, Oleksandr Lyashchenk (Photography,BA,ULHT)